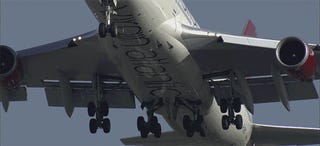 A technical issue with the landing gear of the Boeing 747 Flight VS43 out of London Gatwick, forced the aircraft to circle the skies of England, eventually making a safe but dramatic landing at the Sussex airport, as seen below.
Flight VS43 took off at 11:44 am from Gatwick and was heading to Las Vegas. After a minor mechanical issue with the hydraulic system necessitated a return, witnesses reported that one set of the main landing gear might not have been fully down and locked upon landing and the fire and rescue equipment was dispatched as a precaution during the landing. Passengers remained onboard while the aircraft was stabilized.
The plane most likely spent time circling in order to dump or burn enough fuel in order to decrease the aircraft's maximum weight to meet the landing weight requirement. Flight data appears to show the aircraft made it to the South West before turning back.
A tweet by airport officials stated:
Passengers are remaining on board while maintenance crews stabilize the aircraft with under wing jack stands.
Update: New video released reveals a fantastic perspective on the emergency landing.