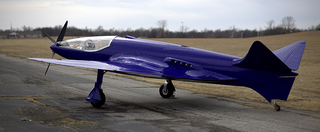 You're daily double for this round is a truly beautiful soon-to-be flying replica of a race plane built by the legendary Ettore Bugatti. Not one, but two 1300 cc motorcycle engines power this sleek aviation wonder. The original aircraft never left the ground, but will its modern day look-a-like have more success?

The original Bugatti 100p has become one of the most popular attractions at the EAA AirVenture museum in Oshkosh, WI. Unfortunately the second World War interrupted the development progress and it was never completed.
In true American spirit, a group of enthusiasts are throwing caution to wind and building an exact replica. Check out how the progress is going.
---
Chris is a pilot who loves airplanes and cars and his writing has been seen on Jalopnik. Contact him with questions or comments via twitter or email.