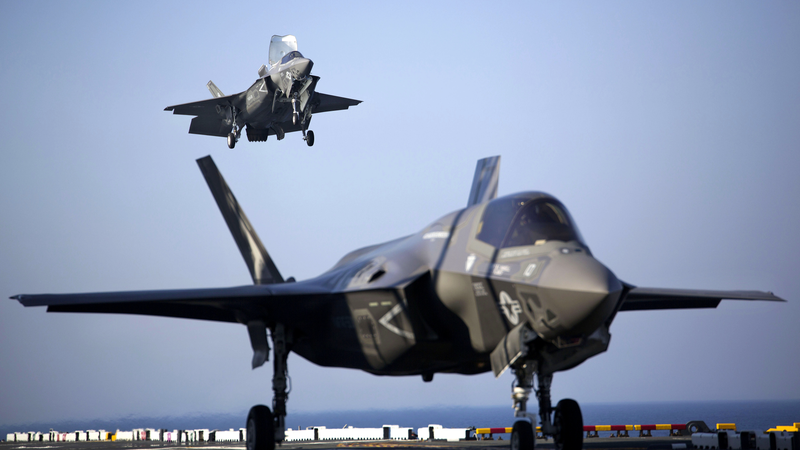 Six of the military's newest and most controversial strike fighter aircraft have finished day one of a two week operational test aboard the USS Wasp. The U.S. Marine Corps F-35B Lightning II jets arrived last night to begin the first phase of shipboard testing off the coast of the United States eastern seaboard.
Just days after Field Carrier Landing Practice, the best short takeoff and vertical landing fighter that money can buy has now touched down on a fully bonafide, sea-going amphibious assault ship. This first Operational Test (OT-1) for the U.S. Marines will evaluate the integration of the F-35B in a wide variation of operations.
Aircraft stationed with Marine Fighter Attack Training Squadrons from Beaufort, South Carolina and Yuma, Arizona have come together aboard the USS Wasp (LHD-1) which was specifically designed to accommodate the vertical/short take-off capabilities of the Harrier II AV-8B. The short take-off, vertical landing capabilities of the F-35B are crucial to the mission of the Marine Corps and necessary for operation aboard a Navy amphibious ship.
Testing will include day and night flight operations in various configurations, all manner of maintenance, weapons loading, launch and recovery software and more. Modifications to the USS Wasp will also be evaluated for any changes that might be necessary for the success of future long-term deployments.
With the initial operating capability deadline looming later this summer, the pressure is on to collect the required data to lay a groundwork for the F-35B deployment across the entire fleet of all U.S. Navy amphibious carriers. As the future of Marine Corps aviation, the F-35B is slated to replace all aircraft from three legacy Marine Corps platforms; the AV-8B Harrier, the F/A-18 Hornet, and the EA-6B Prowler.
Photos: USMC