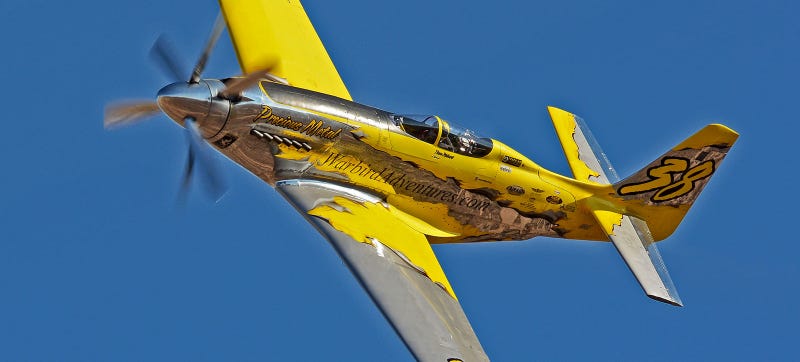 After crossing the finish line in 3rd place, the team was notified in the pit that a single judge had made a controversial decision to disqualify the Unlimited Gold Class P-51 Mustang for crossing the east showline on the second lap.
Precious Metal is a purpose built, one-of-a-king P-51 Mustang powered by a 3,200 hp Rolls Royce Griffon with very unique contra-rotating 3-Blade propellers. Precious Metal has an interesting history, built in 1987 specifically for racing from a conglomeration of various P-51 components from around the world. The Griffon engine, sourced from a Miss Budweiser Unlimited Hydroplane racing boat, increases the displacement by nearly 40% compared to the factory Merlin engine used by all other P-51s. The engine was blown during its debut race week in 1988 and safely landed gear up only to sit for many years.
Fast forward to 2011 where Thom Richard acquires the plane and qualifies to race at Reno, only to have the event cancelled after the tragic Leeward Crash. Then in 2012 as a top contender in the Unlimited class Precious Metal does not finish after losing a gear door in the final heat. Finally in 2013 after a dramatic week preparing and traveling, the aircraft was flown to a 5th place finish setting the stage for a 2014 comeback.